Masa BaTeva: Outdoor Adventure Program
at Camp Ramah in Canada

July 24, 2023 – August 17, 2023
Join us for Masa BaTeva: Outdoor Experience at Camp Ramah in Canada, for a life changing summer camp experience, combining in-camp outdoor experiences, out-of-camp canoe camping, and rock climbing as well as beloved, classic Ramah Canada programming.
Masa BaTeva campers will spend a significant amount of the session camping in Ontario's stunning and rugged provincial parks. Our focus will be on canoe camping in the vast waterways and wilderness but will also include an out of camp rock climbing and/or backpacking trip. While in camp in our beautiful, expansive Muskoka campus, campers will experience our exciting new climbing, high ropes, rappelling and adventure courses; paddling and swimming in our lake. Campers will hike and bike our wilderness trails, and participate in accessible, joyous Jewish experiences with an environmental/nature focus.
In this specialty track "camp within a camp," campers will learn valuable adventure and nature skills with field experts, while also experiencing vibrant Jewish life in community. They will develop the inner traits of resiliency, grit, and inner-calm– as well as crucial interpersonal and team skills needed to thrive both in the wilderness as well as back home.
At the core of our mission at Camp Ramah in Canada is the commitment to the thriving of our young people through teaching a variety of skills in a vibrant Jewish context.  Our new Masa BaTeva Specialty Program continues this great tradition in a new way– come and join us and spread the word!
Dates: July 24 – August 17, 2023 (Full Session), July 24 – August 6, 2023 (Two-Week Option) 
Rates: $6900 (Full Session), $3900 (Two-Week Option)
Ages: Current Grade 6 (Kfirim)- Current Grade 9 (Magshimim)
**Two-Week Option available only for Current Grade 6 (Kfirim) and Current Grade 7 (Tzirim)
Take a look at some of our Frequently Asked Questions HERE! 
Daily Schedule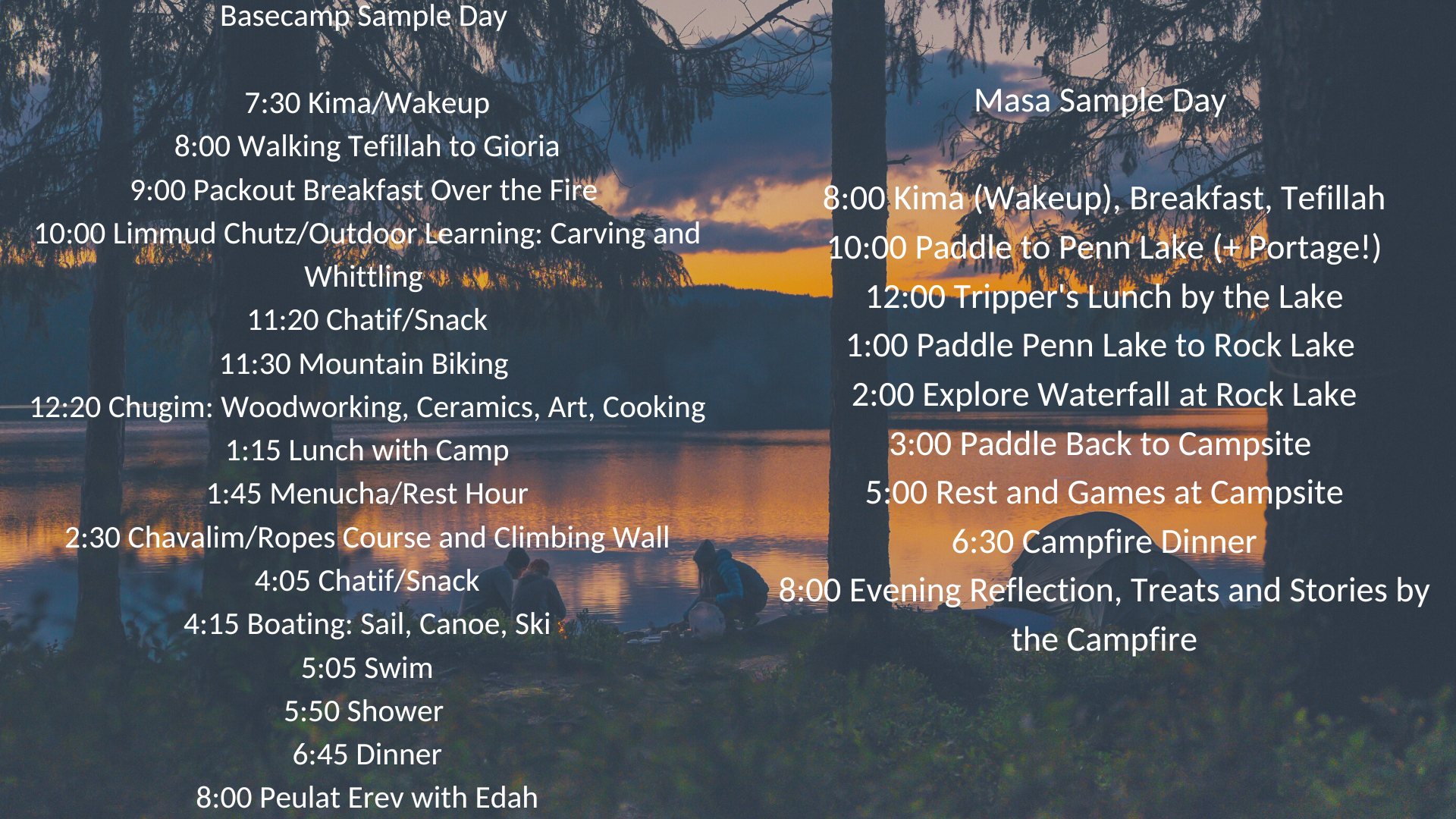 Session Overview