רמה גרייט לייקס המזרחי
Ramah Eastern Great Lakes
A Project of Camp Ramah in Canada
in partnership with the National Ramah Commission
Age: Rising 2rd – 5th Graders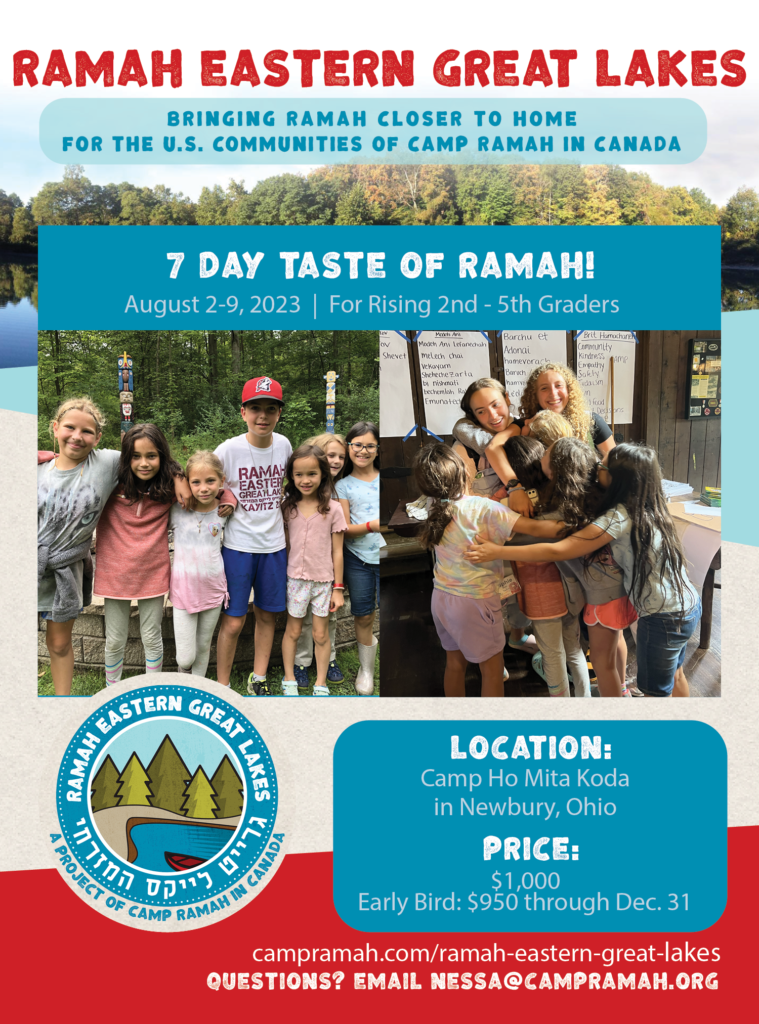 Ramah Eastern Great Lakes (REGL) offers a seven-day Taste of Ramah Canada experience — for our US communities, but a little closer to home! REGL brings the best of Ramah Canada to our youngest and newest chanichim (campers) by providing an experience created specifically for campers in our catchment area, including; Cleveland, Detroit, Pittsburgh, Rochester, and Buffalo communities. REGL shares Ramah Canada's commitment to ensuring our young people thrive through fostering community, growth, and skill development in a vibrant, Jewish community.
REGL campers will discover a full range of programs and activities, including: community building, art, music, sports, swimming, joyful Jewish experiences, and outdoor adventure. Our program will focus on creating friendships, enhancing independence, living as part of a larger community, learning new skills, and having fun. 
As a first overnight camp experience for most, REGL will spark passion and excitement for Jewish camping, specifically Camp Ramah in Canada and the Ramah movement. As our chanichim grow, they will have the opportunity to graduate to Camp Ramah in Canada, where the lake is crystal clear, the air is fresh, the bike trails are endless, the basketball courts are busy, the ruach is infectious, and the cheers on Yom Sport can be heard for miles. 
Learn about our amazing REGL Director, Nessa Geffen, HERE!
Check our Frequently Asked Questions HERE!
"From a parent's perspective we could not have asked for a better way to introduce Sophie to our home away from home – Ramah Canada. REGL was a tremendous gift to Sophie and our family."
"I was beyond thrilled by the experience my son had at REGL this summer. His joy was palpable as he relayed his experiences to me. From learning about Jewish values to water relay races to kayaking to celebrating Shabbat, REGL accomplished it all. On top of that, the food was outstanding and plentiful. His counselors were phenomenal and really understood how to take care of little kids. Furthermore, he already misses the many new friends that he made. What more could I ask for! It was the perfect way to experience sleep-away camp for the first time.  He is already asking when he can go back!"